Here's another ridiculous optimistic view of the future that is simply wrong on every level: Our climate projections for 2500 show an Earth that is alien to humans
The not-very-scientific conclusions wasn't based upon actual known knowns… such as actual temperatures and the present temperature pathway that the Earth is on. No, this was all done by using a single climate model (computer software) to project a narrow outcome without any consideration of the critical elements of life. Which makes this type of speculation absolutely useless.
Let's call this climate delusions. The fantasy that human kind will somehow manage to survive on Earth for another 480 years, which is factually impossible on the present temperature pathway.
I can only wonder why climate scientist engage in this kind of dishonesty and narrow minded worldviews. Don't they understand that present failing ecosystems indicate that future ecosystems will be uninhabitable to life? There was no mention of the billions of people that could not possibly exist on such an "alien" Earth.
Do you see the problem with this graph they produced?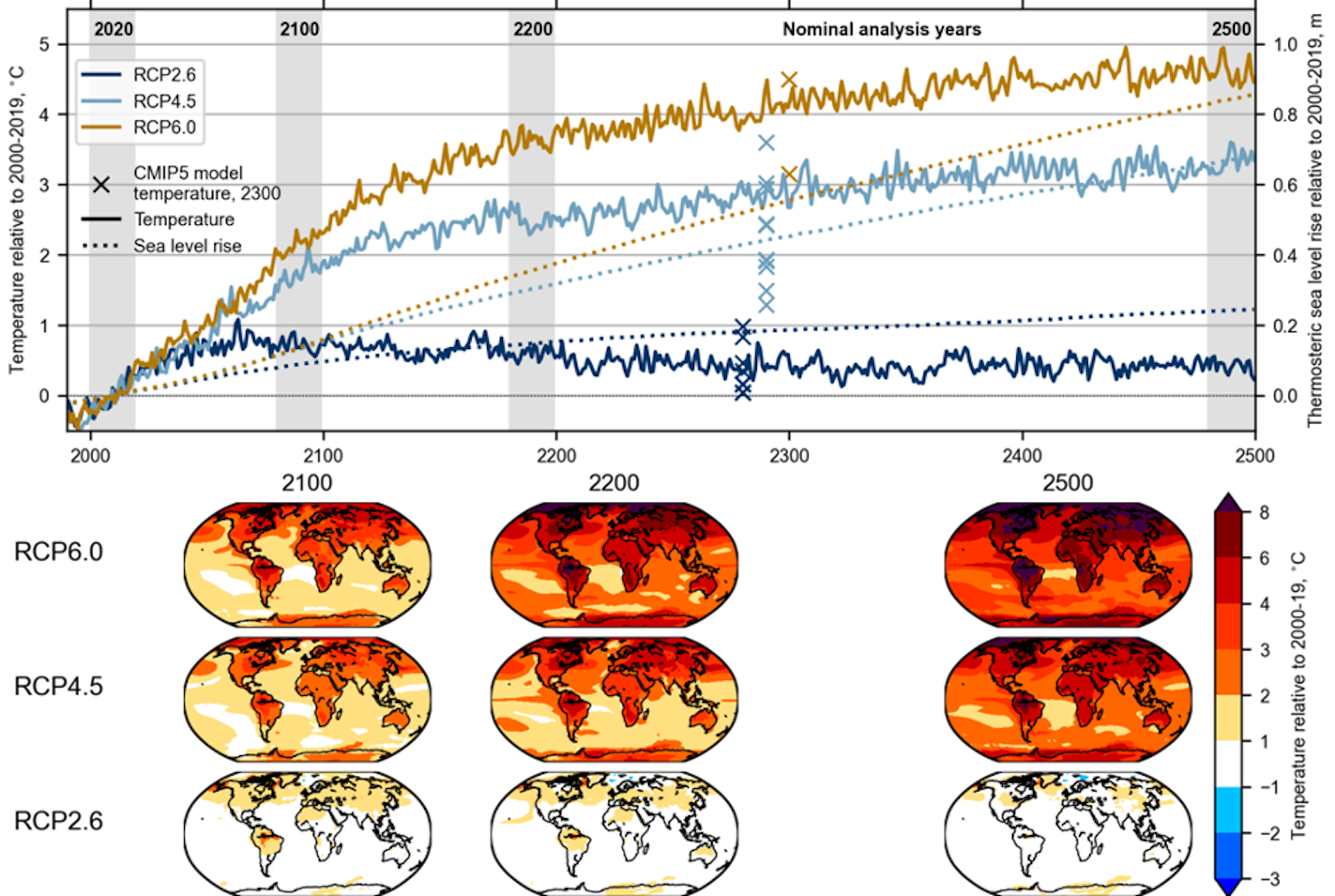 The problem is these temperatures are beyond survival. There is no possibility of growing any food. So before all mammals die of heat induced deaths, they'll have already died from starvation as most plant life dies out. Food crops will be long gone before the year 2500.
We're also NOT on the RCP6.0 pathways for those that don't know, we're at 8.5 and still climbing. The truly silly notion that we could somehow achieve a RCP2.6 pathway is based on nothing more the pure speculation and wishful thinking (hopium, smoked in large quantities).
This is what is going to happen should something living survive into the future:
Biological thermal maximum is reached between 2C – 3C resulting in widespread extinctions (including human). Food crops will have already plummeted to zero.

Present pathway of global heating is an extinction level event. Zero possibility of "adaption" under projected temperatures.

2C from pre-industrial (1750 is the correct date, NASA) will be reached by 2040 – 2050, Arctic ice-free summers and albedo loss will create huge heat domes and widespread suffering and deaths. 3C will likely be achieved by 2100.

The notion that humans will survive until 2500 is absolutely ridiculous, temperatures will have long since exceeded thermal maximums for all life forms and excessive wet-bulb temperatures negating nearly all life on Earth. It isn't C02 that we need to combat immediately, it is excessive heat, which can only be done by reflecting solar energy back into to space.

Lowering C02 emissions will NOT lower temperatures (current heating is from past emissions), this would only lower FUTURE heating. Ending C02 emissions and other gasses will certainly help, but we're still going to warm up past biological thermal maximums, so we need to combat the extreme energy imbalance FIRST and artificially lower temperatures, while also ending our emissions, and THEN capture as much emissions already in the atmosphere as possible.

Survival of our species is 250ppm – 285ppm, anything over that triggers excessive warming. Billions will still die as global leaders and climate scientist fail to understand the severity of this crisis (delayed warnings / delayed actions, failure to address temperatures in favor of lower C02 emissions).

Summer 2021 revealed just a tiny taste of what is coming, every year, everywhere, longer and longer, hotter and hotter, with the associated excessive evaporation and water vapor creating huge storms, gigantic floods, hurricanes, tornadoes and destruction.
I am no longer surprised that there are climate scientist that still don't get it. Don't understand how life works on Earth, don't understand what thermal tolerance is, don't understand wet-bulb temperatures, don't understand that all life requires a food supply that must still exist into the hellish future, and don't understand that constantly lying about baseline temperatures (notice this one started at the year 2000) just to fudge the numbers is worse then dishonest, it's criminal.
I don't mention it often, but algae and ocean deoxygenation may be the death of all life on Earth. It's not something I worry about as it is not something I can control. If we could actually solve excessive heating, and solve greenhouse gas emissions, we could forestall ocean deoxygenation. Our immediate problem is how can we solve excessive solar energy being trapped by the polluted Earth's atmosphere.