Israel Attacks Humanitarian Ship
Israeli gunboats attacked the humanitarian ship Dignity today, carrying former Congresswoman Cynthia McKinney from the United States.
(Larnaca, Cyprus, 10:00 am) On Tuesday, December 30, at 5 a.m., several Israeli gunboats intercepted the Dignity as she was heading on a mission of mercy to Gaza. One gunboat rammed into the boat on the port bow side, heavily damaging her. The reports from the passengers and journalists on board is that she is taking on water and appears to have engine problems. When attacked, the Dignity was clearly in international waters, 90 miles off the coast of Gaza. Israeli Navy attacks and wounds Dignity in International Waters
I'll be interested in seeing the footage. CNN has a pic here: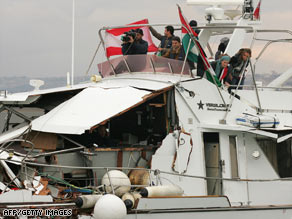 The CNN story is already spinning what will probably be later learned as the real facts (too early to tell, but it's pretty damned hard to ram a boat in open international waters unless it was fully intentional). Israeli Foreign Ministry spokesman Yigal Palmor is not known for telling the truth.
Here are pics of massacred children in Gaza. Don't look if you don't want to know.
Whoops, Youtube already has a video.
There is also a new update already from Free Gaza on the attack.
Unfortunately, I have a really lousy internet connection today (more heavy snowfall, many buildings are now collapsing in the region) and can't update like I would prefer.